FREE SHIPPING ON ALL ORDERS!
Within the USA. No code needed.
GET 10% OFF
Use code "10off3" to get 10% off your order when you buy 3 or more items.
NEW DROPS & FRESH RESTOCKS
MORE FROM KODIAK BODYBUILDING APPAREL
STRUGGLE DEVELOPS STRENGTH
Premium Men's Stringer Tanks
THE PITTSBURGH COLLECTION
WHAT DO YOU REPRESENT?
Kodiak Bodybuilding Apparel was made to honor those who live the life day in and day out. The amateurs and pros alike, climbing the ranks of the sport. For those who do what they do out of an undying passion for their craft.

Why represent some multi-million dollar corporation that only endorses elite top level athletes? Represent the brand that represents you. 
Proudly designed and printed in the Steel City of Pittsburgh, PA and worn in gyms all across America and the world.
ALL ITEMS ARE LIMITED RUNS.
No mass producer.
No order fulfillment center.
This is a true small business.

I personally design and print everything you see here and fill the orders myself.
For that reason, all items sold on this website are produced in limited quantities and subject to selling out quickly.

-Chris Cirillo
Owner of Kodiak Bodybuilding Apparel
FOLLOW US ON INSTAGRAM @KODIAKBODYBUILDINGAPPAREL
Email: kodiakbodybuildingapparel@gmail.com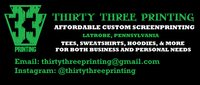 Custom screenprinting available.
Need custom tees? Email thirtythreeprinting@gmail.com with all inquires for both personal or professional needs.