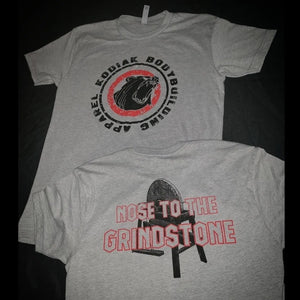 Nose to the Grindstone Supersoft Tee
Regular price $32.00 Sale
My late grandfather was my biggest inspiration growing up. He was a hardworking business owner that knew the value of grinding long before it became a meaningless hashtag. He also knew the value of being a good man of benevolent character and being supportive of those around him. Today in his absence the Kodiak brand exemplifies those qualities he embodied. One of his favorite lines was "keep your nose to the grindstone;" words I've remembered on more than one occasion when going through challenging endeavors. 
In a sport that is 24/7, bodybuilders can resonate with these words. Whether you're going through hard times or good times, through the ups and downs, if you want to win, if you want to succeed...remember that hard work pays off. Keep your nose to the grindstone.
Printed on a supersoft cotton-poly blend tee. Also available as a crewneck, hoodie, or cropped hoodie.