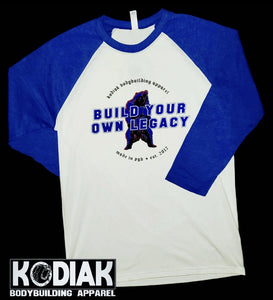 Build Your Own Legacy 3/4 Sleeve Raglan
Regular price $36.00 Sale
Some people are ok with being average. For them, the going rate is acceptable. Minimal effort, minimal return is a way of life for these types. Work 9-5, eat like a pig and watch tv until its time for bed. Human livestock whose stories will never be told.
Chances are if you're reading this, that's not you. You've recognized you were meant to be more than a worker drone in a hive mentality society. You know there's an undeniable purpose in you and a destiny that you may fulfill. Whether you do or not, that is up to you. If you've recognized your greater purpose and you're willing to put in the work, then perhaps your story will be told and you will build a legacy to leave behind when you're gone.
Let the nobodies of the world live a life of mediocrity. Be different. Be original. Strive for more. Build your own legacy.
Printed on a super soft blue sleeved, white bodied 3/4 sleeve raglan.